What Does an Estate Plan Include?
Who should have an estate plan?
Listen to this Article on:
Credible Reasons Why You Should Have An Estate Plan.

Reasons You Need an Estate Plan. While there are various reasons people decide to meet with an estate planning attorney and create an estate plan, here are five of the most valuable reasons. Yes, You May Need an Estate Plan, Even If You Don't Have an Estate. If you have assets, you have an "estate," – and you may need a plan.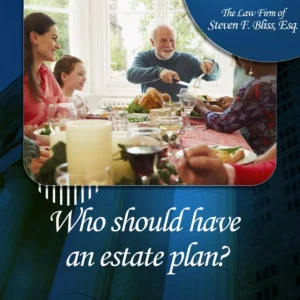 You may hear the word "estate" and think of mansions and sprawling grounds, but you don't have to be wealthy to have an estate. An estate consists of all the property a person owns, including real estate, cars, cash, and other assets. Anyone who wants their assets transferred to one or more surviving loved ones after they pass away should consider establishing a formal estate plan. This essential set of legal documents can make it easier for your family to ensure that your wishes and needs are met if you're unable to speak for yourself.
What Is an Estate Plan?
An estate plan is a collection of documents that protects your assets and personal property (your "estate") and explains how you want to pass them down. It documents your wishes and specifies who will guard those wishes and act on them in your absence.
Please Help Us Spread The Word By Giving Us a 5 Star Rating on This Article
Free Initial Consultation with
Steven F. Bliss Esq.

★ ★ ★ ★ ★

What Does an Estate Plan Include?
A will identifies whom you want to receive each of your assets. Whom shall be your children's guardian, be an executor to oversee the estate plan process, and have a power of attorney? A power of attorney makes financial decisions if you cannot pay your bills, manage investments, and make legal or business decisions if you become incapacitated or pass away. A medical power of attorney makes your medical decisions if you're unable to. A living will documents your end-of-life preferences.
A Trust controls how and when your assets are distributed.
A Trust can help reduce or eliminate estate taxes as well.
What Are Three Important Functions of an Estate Plan?
1. Protects your assets for your family (or other heirs)
An estate plan can act as a safety net that helps preserve the value of your assets, minimizes wait times for disbursement, and helps ensure the legacy you envisioned is carried out.
2. Gives you a say in who receives your belongings by creating a will; you can name your assets, beneficiaries, and an executor who will carry out your wishes after you pass away.
3. It allows you to choose who will make your decisions.
An estate plan often contains a durable power of attorney form and a health care proxy form – two vital legal documents that ensure that your final wishes will be carried out the way you want them to. A durable power of attorney form appoints a trusted person such as a relative or friend to manage your legal and financial affairs should you become incapable.1 And a health care proxy form gives someone permission to make health care decisions for you based on your wishes if you're unable to do so.
If you have a durable power of attorney or a health care proxy, it's essential to include that information on accounts such as IRAs, 401(k) plans, and insurance policies.
How to Get Started with Estate Planning.
1. Begin calculating your worth by creating a list of your financial assets, personal property, and document liabilities.
2. Ask a financial professional to refer you to a qualified estate planning attorney
3. Determine (or update) your beneficiaries
4. Revisit your estate plan regularly
How Life Insurance and Annuities can Help with Estate Planning
Life insurance and annuities can play an essential role in estate planning. Life insurance can provide a source of income for surviving family members. Proceeds from life insurance can typically bypass the probate process (the distribution of an estate), providing an immediate source of cash that survivors can use to pay off taxes or remaining debts, such as a mortgage.
Annuities with a named beneficiary can generally avoid the probate process, potentially providing income directly to beneficiaries without delay.
Talk to a qualified estate planning attorney to learn more about the importance of estate planning and partner with other professionals to help you develop an estate plan.