Will Writing & Preparation Costs
How much does it cost to write a Will?
Listen to this Article on:
The True Costs of Writing a Will & Risks Involved.

There are several ways to write a Will, including writing it yourself, having a lawyer prepare it for you, or using an online legal company. Many people believe that the process of writing a Will is expensive. Conversely, this is not always true. While fees can vary greatly, many of them are reasonable. Some come with the peace of mind that an attorney has reviewed or prepared the document for you.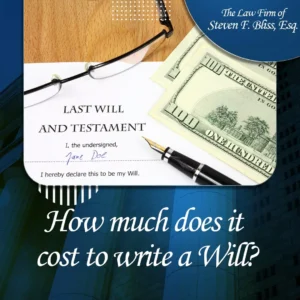 Moreover, by establishing a Will, you can ensure that your loved ones are cared for after your death, and your assets are distributed to your chosen beneficiaries. That your final wishes are carried out precisely as you intend. Unfortunately, the anticipatory cost of hiring an attorney to draft a Will often intimidates testators from establishing a Will at all. Nevertheless, there are many cost-effective solutions for writing a Will yourself that allow you to plan for your family after your passing without forcing you to spend thousands of dollars.
Here are the options for preparing your Will.
Preparing Your Own Will
Ordinarily, the least expensive way to prepare your Will is to do it yourself. If you choose to design your own Will, you can follow a form or online examples for little or no cost. Notwithstanding, be highly aware that many states don't recognize holographic or handwritten Wills.
Please Help Us Spread The Word By Giving Us a 5 Star Rating on This Article
Free Initial Consultation with
Steven F. Bliss Esq.

★ ★ ★ ★ ★

Even though this is the most inexpensive way to proceed, it's not recommended that you do so, as failure to have a trust attorney review your Will can cause a court to invalidate it if there are any errors. Should this happen, the court will distribute your assets according to your state's laws. You may not have intended this outcome, but state laws may require your property to go to relatives you never intended.
Using a Do-It-Yourself Will Creation Kit
Several online companies have do-it-yourself Will creation kits. You can shop around for the best deal, but read the fine print. While some online companies say they'll give you free forms, you may have to sign up for membership, which you probably don't want. Moreover, this unforeseen extra cost could be as much as paying a company to prepare it for you. Pre-made forms for do-it-yourself Wills are now widely available online and offline; conversely, some of these resources are available at no cost. While hiring a professional isn't quite the same, a pre-made form can help you create a no-frills Will that meets your state probate guidelines without exceeding your budget. Sample forms can cost at little as $10 to $20 for an essential Will. In comparison, complete fill-in-the-blank templates average around $100 to $500, depending on the complexity of your circumstances.
Using an Online Company for Will Preparation
A better way to prepare your Will is to pay an online company to handle it, which often costs just slightly more than a do-it-yourself Will kit and has the added benefit of input from attorneys. In addition to a basic Will, some companies offer add-ons, such as the option to create a Living Will or prepare a power of attorney. If you only need a basic Will, you can usually hire a company for less than $100—a price that comes with peace of mind.
Hiring a Trust Attorney
Hiring an attorney to prepare your Will makes the most sense. If you have a simple estate—one with only a small amount of property and accounts—an attorney can usually prepare your Will for $200 to $600, depending on where you live. Costs in significant cities are often higher than in rural areas. Some storefront legal services charge less than $200 for Will preparation. Still, you may not get the attention you want from a trust attorney, or a paralegal may end up being the one to draft your forms.
When you hire a private Trust Attorney, you get legal advice for estate planning and have peace of mind that the Will is prepared correctly. If you have many assets, you may need to have a Will, a living trust, a power of attorney, and a medical power of attorney, which can cost $5,000 to $10,000. Preparation of the Will alone can cost $4,000 to $5,000. You may want to get a flat fee from your Trust Attorney; otherwise, you could be billed at hourly rates that range from $300 an hour in rural areas to over $600 in major cities. Probate and Estate Planning Lawyers typically charge much more for a living trust than a Will, even though a simple living trust is a fairly standard document like a Will. It's rare to see a price of less than $2000 or $4500 for a Living Trust & Thorough Estate Plan, yet they are definitely worth the costs and efforts to attain.